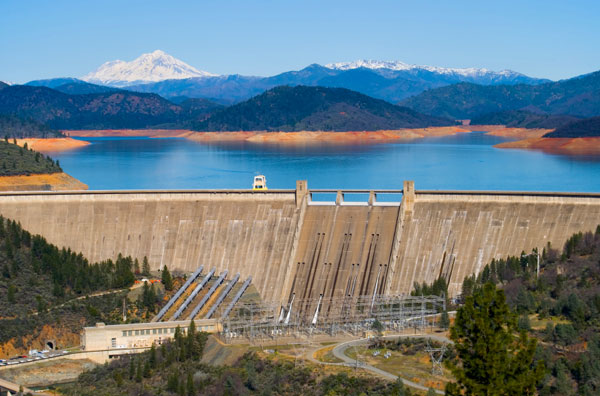 Shasta Dam
Shasta Dam (called Kennett Dam before its construction) is an arch dam across the Sacramento River in the northern part of the U.S. state of California, at the north end of the Sacramento Valley. The dam mainly serves long-term water storage and flood control in its reservoir, Shasta Lake, and also generates hydroelectric power. At 602 feet (183 m) high, it is the ninth-tallest dam in the United States and forms the largest reservoir in California.

Envisioned as early as 1919 because of frequent floods and droughts troubling California's largest agricultural region, the Central Valley, the dam was first authorized in the 1930s as a state undertaking. However, this coincided with the Great Depression and building of the dam was transferred to the federal Bureau of Reclamation as a public works project. Construction started in earnest in 1937 under the supervision of Chief Engineer Frank Crowe. During its building, the dam provided thousands of much-needed jobs; it was finished twenty-six months ahead of schedule in 1945. When completed, the dam was the second-tallest in the United States after Hoover, and was considered one of the greatest engineering feats of all time.

Even before its dedication, Shasta Dam served an important role in World War II providing electricity to California factories, and still plays a vital part in the management of state water resources today. However, it has brought about major changes to the environment and ecology of the Sacramento River, and met with controversy over its significant destruction of Native American tribal lands. In recent years, there has been debate over whether or not to raise the dam in order to allow for increased water storage and hydropower generation.
Shasta Dam